Welcome to Navy Aerobatic Air Shows
Presented by Warbird Aviation Rendezvous, Inc.
Based in Springfield, Illinois, NAA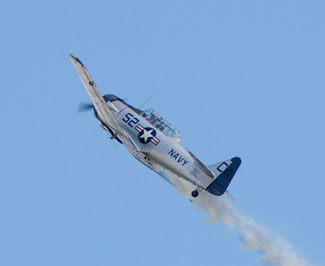 owns and operates a 1943 North American SNJ-5 Texan, licensed in standard category. The aircraft is painted in authentic United States Navy markings originating in the 1950's at Corry Station, Pensacola FL.
Our air show routine offers a full service act sure to enhance any air show by exciting children with the dreams of loops, rolls and trailing smoke, veterans with the maneuvers they once performed themselves and the general public with the thrill of flying as in days gone by.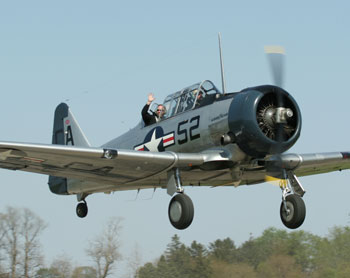 NAA also offers reasonably priced rides in our SNJ-5. During these exciting adventures into the wild blue, we offer you the opportunity to sit behind the pilot in an open cockpit as you rumble down the runway with the wind whipping across your face and the growl of the radial engine purring ahead of us. Once in the air live the dream of rolling upside down and twisting and turning through the sky. Gift certificates are available for that special someone to live the dream or relive their past.
Ever want to know what it takes to put a plane like this in the air and keep it flying in top notch condition? Take a peak inside NAA by stopping by our blog frequently. See what our pilots and ground crew are doing to, where we are going and how things work inside a team like NAA.
Thanks for stopping by our website and we hope to see you at an air show in the near future.